Intestinal epithelial NF-κB in regulation of metabolism
Prinicipal Investigator
Scientific interest within the context of the graduate college:
Our group "Signal Transduction in Health and Disease", Department of Gastroenterology and Hepatology, Charité Virchow, aims to understand the molecular mechanisms involved in tissue homeostasis, inflammation, and resolution of inflammation. Our main focus is on the transcription factor NF-κB and its role in the intestinal epithelium. Our current projects range from determining the role of the transcription factor in epithelial regeneration in colitis and in inflammatory bowel diseases (Re-Thinking Health 2022), to refining analgesia (3R funded project), to investigating the role of NF-κB in cellular senescence in the gut (DFG) or its role in metabolism (see below). Our research is highly interdisciplinary and spans different fields including biochemistry, immunology, stem cell biology, and cancer biology.
Project description:
NF-κB is a transcription factor that regulates expression of over 400 genes and thereby directs divergent, stimulus-dependent cell fate decisions. Our published and preliminary data show that in addition to regulating inflammatory responses, intestinal epithelial NF-κB regulates fat metabolism in intestinal epithelium.1,2 Wild-type mice fed a high-fat diet become obese and produce numerous pro-inflammatory cytokines. On the contrary, mice with suppressed NF-κB in epithelium do not gain weight. On the cellular level these mice show changes in their lipid metabolism processes, and on molecular level, in cell cycle progression. Given the importance of epithelial NF-κB in numerous diseases ranging from diabetes to cancer, it is critical to investigate the role of intestinal epithelial NF-κB in intestinal homeostasis. We will thus determine, using established mouse models, organoids, and patient samples, how NF-κB mediates expression of genes regulating lipid metabolism and how mechanistically that contributes to ability to gain weight. We will then explore clinical implications of the phenotype and determine how these changes in gene expression impact health in human patients.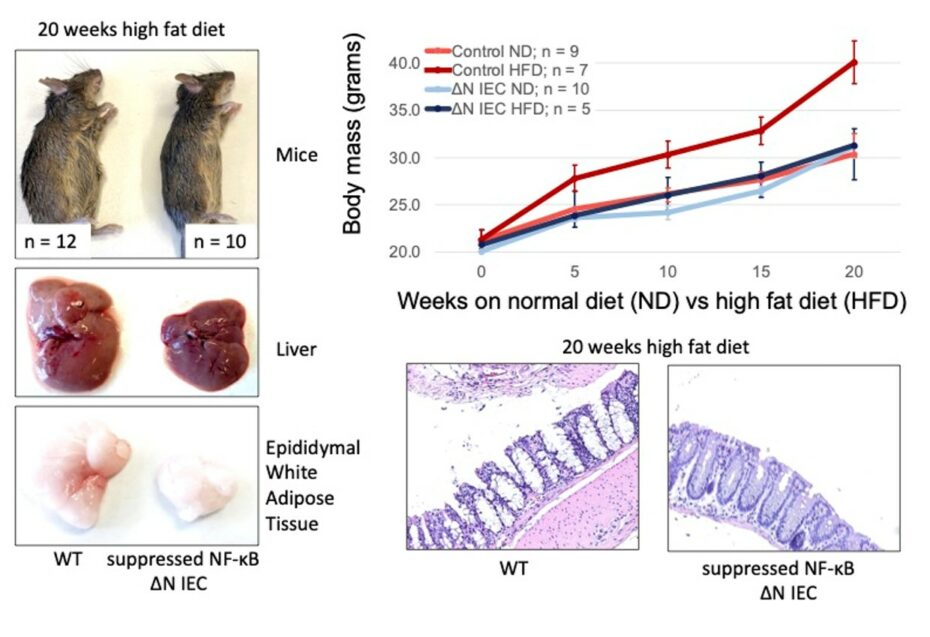 References
Mikuda N, Schmidt-Ullrich R, Kärgel E, […], Scheidereit C, Kühl AA, Kolesnnichenko M. Deficiency in IkappaBalpha in the intestinal epithelium leads to spontaneous inflammation and mediates apoptosis in the gut. J Pathol. 2020; 251:160-174. doi: 10.1002/path.5437.
Kolesnichenko M, Mikuda N, Höpken UE, […], Schmidt-Ullirch R, Schmitt CA, Scheidereit C. Transcriptional repression of NFKBIA triggers constitutive IKK- and proteasome-independent p65/RelA activation in senescence. EMBO J. 2021; 40:e104296. doi: 10.15252/embj.2019104296.